Description
The MA30day challenge is a program that focuses on creating a healthy relationship between nutrition and movement. This current program focuses on building and maintaining lean muscle mass while decreasing body fat to achieve not only your aesthetics goals, but a healthy body and mind.
This challenge will run for 60 days. In the program you'll receive 4 weeks of nutrition with their respective recipes to help you cook and eat delicious food while working towards your goals. It also contains 4 weeks of routines   with video tutorials that only require free weights. This can be done at home and or at the gym. There are two versions of the program to cater to vegan and carnivore eaters.
Grand prizes:
1st place: $500 plus a chance to get flown to LA and get coaching for another 60 days from myself personally.
2nd place: $500
3rd place: $500
MA30DAY Fall / Winter 2017 – 2018
Sale!
Ashia S.
Lost 4 lbs • 1.5 inches off of waist
I've followed Massy since 2015 approximately on IG. I truly connected with her journey to healing and I still do. Since I myself have realized that movement is my true balance in life. I've voted for the finals of prior programs without thinking once to participate myself. Yet the timing is everything! I've sought out so much information regarding weight loss, lean muscle gain, portion control, etc. Something came over me. I wanted to hold myself accountable in applying the knowledge therefore after consideration, I purchased the program. The program has had me adjust my entire being. I've spent more time at home with the routines, which has allowed me to maximize on time spent with my son. Secondly, I more of an intense mover but the program has brought me to much appreciation of stability, muscle isolation, and intentional moves. The MA30Day Program has pushed me to share my journey which has always been my private place. Lastly, the nutrition has to be my most prided accomplishment because for months I'd say I'd do it and never did. I meal prepped the entire 60 days and I'm so overjoyed. Thank you for your vision! Best regards and safe travels Massy!
Recommended MA30DAY Products Add Ons
Testimonials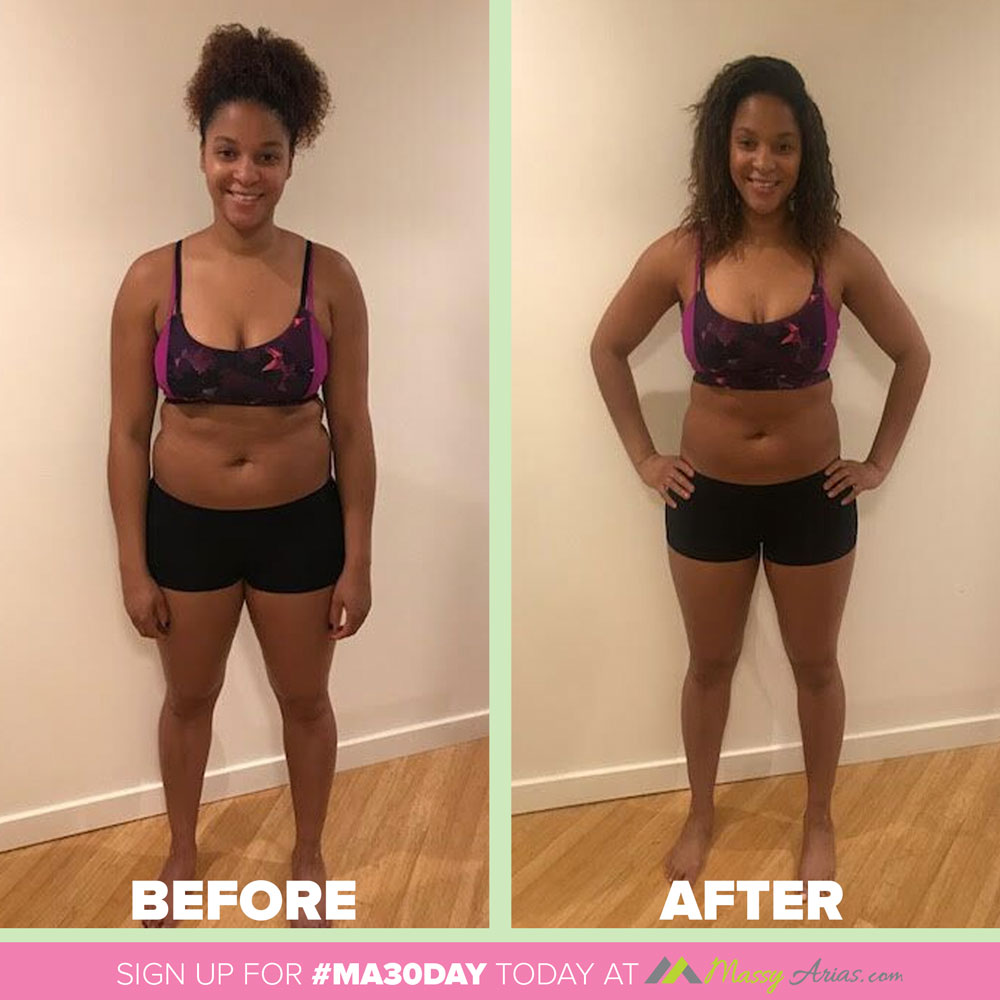 Ashley H.
Lost a total of 6lbs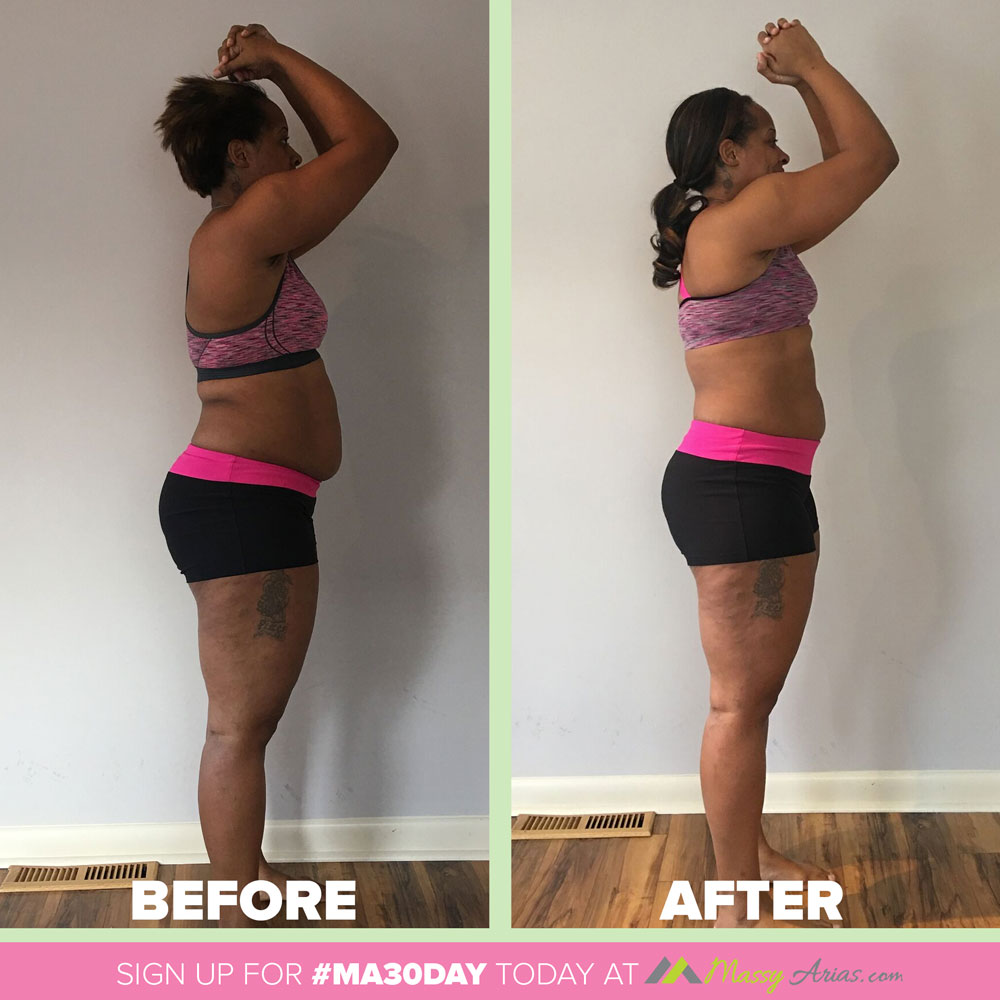 Blair C.
Lost a total of 7lbs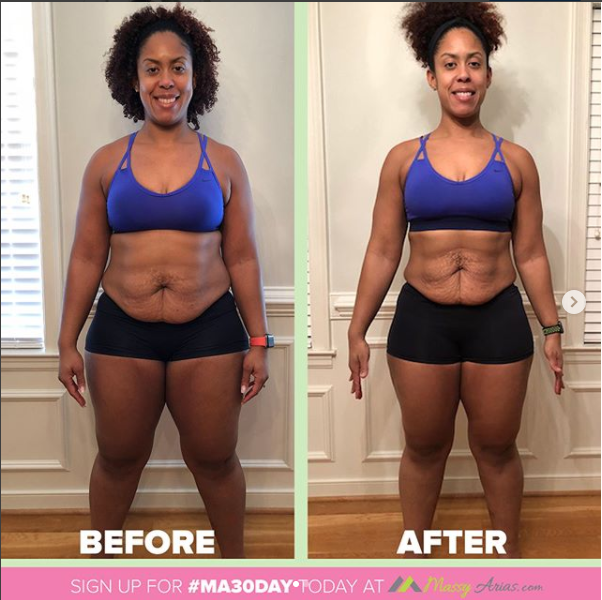 Weight Lost:
21.2 lbs
Inches/CM Lost: – over 15 inches
Danielle B.
In April 2017, I weighed in at 244lbs, killed my body with meal replacements, ate under 1200 calories a day, committed to fasted cardio and hit the gym twice a day consecutively for five days a week. What was I thinking?? I allowed myself to push through nights hungry so I can reach my goal weight of 210lbs in order looking fabulous for an event. Unfortunately, the day after the event, I immediately start to binge on ridiculous amounts of food. In November, my weight skyrocketed back up to 226lbs, and that was my breaking point. I was tired of the yo-yo dieting, starving, and body-shaming.  Joining the MA30DAY in December pushed me, mentally more than physically!! Once I understood the science behind food and how it works with the body, immediately I found myself/my Why! Massy you created a plan that really works! You joined food and fitness and made it fun and fulfilling altogether. I have been able to reach my fitness goals week after week and learned to enjoy the meal plan in the program. The food/mealplan opened my mind to another way of thinking, a lifestyle shift. I am still going through my transformation and this program has rewired my brain mentally and physically. Massy your program changed my life, your science behind food and fitness is the most sustainable part of my transformation. Can't wait for the new and revitalized ME after the Spring Program!
Thank you for creating a program that works without any fillers!! Just hardwork and dedication!
Massy Arias

Strive for Progress, Not Perfection!