[vc_row full_width="stretch_row" type="full_page_width_inner_container"][vc_column width="1/2″][vc_column_text]
Thank You for using Mijem 
Use Coupon mijembootcamp8-9
for $5 off Bootcamp Price
Date: Aug 9th – 10AM
Location: Coast Fitness, 5001 W. El Segundo Blvd. Hawthorne, CA 90250(405 Fwy. @ El Segundo)
$20 Entry. All Fitness levels as modifications Will be introduced.
Sunday: 10AM
Dynamic warm up 15 mins: proper warm up to engage and fire up the right muscles before circuit.
30 min total body circuit: 15 min cool down : properly cool down with passive and static stretching.
Q&A post workout nutrition.
This class focuses on a total body circuit using the massy method horizontal loading system. Here you will learn how to cut down your time in the gym, get both aerobic and anaerobic results and experience one of the best workouts of your life by working the entire body. Build lean muscle, burn fat, And get summer ready!
Q&A:
Introducing the MassyMethod Academy for women and men.
Come out and join me![/vc_column_text][/vc_column][vc_column width="1/2″][vc_column_text]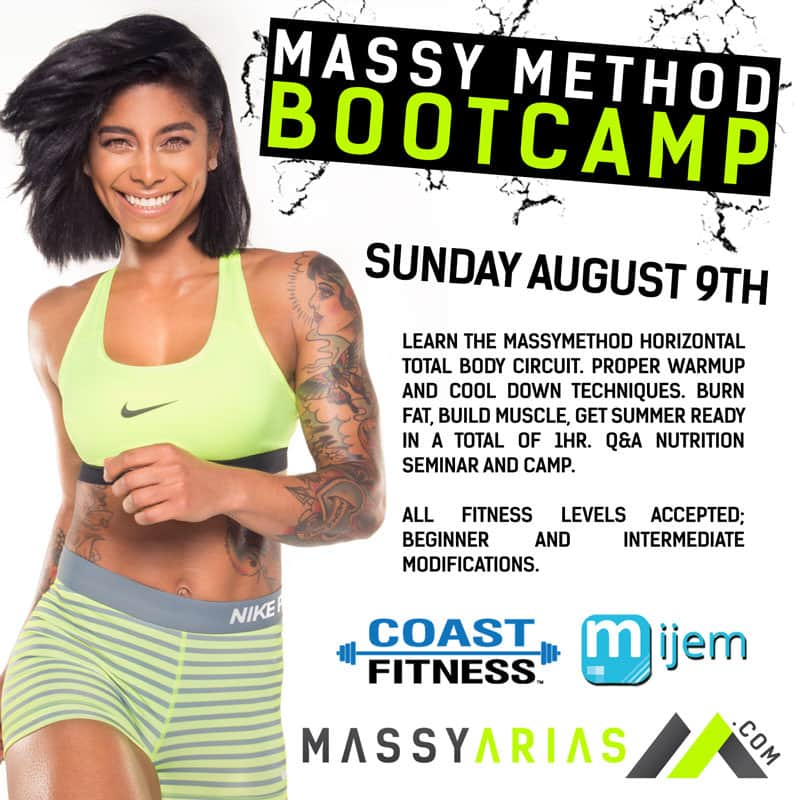 [/vc_column_text][/vc_column][/vc_row][vc_row][vc_column width="1/1″]
[/vc_column][/vc_row]