[vc_row][vc_column][vc_empty_space][vc_row_inner][vc_column_inner][vc_empty_space height="15px"][vc_column_text]Get ready to change up your current workouts and diet with new exercises and great tasting meal options! I'll be doing this challenge alongside you the entire way!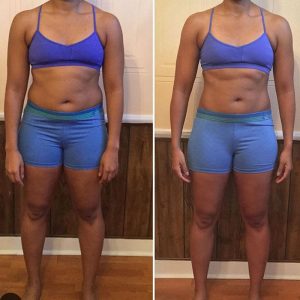 What you will learn through this program:
What foods to eat to achieve your goals safely while improving your health.
How to meal prep to help you be successful on your new lifestyle.
Portion control and timing of meals including pre and post workout meals.
How to season your meals to make them healthy but tasty.
How to properly exercise to achieve faster results.
How to properly foam roll, stretch, and recover from workouts.
What you will get with the program:
Weekly Grocery list.
Four week meal plan with specific portions and timing for am workout or pm workout schedule.
Success Manual.
Recipes.
4 week Workout plan with videos of each workout session.
Private Snapchat where you get to interact with me. This includes meal preparation, tips, techniques, and motivational messages to keep you focused.
Community Forum to engage with all the #MaWarrior community.
Weekly giveaways, Grand Prizes, and discounts of our sponsors (Jamba Juice, and Tru Supplements).
All for less than $4 a day per person!!
GET READY BECAUSE THIS CHALLENGE WILL GIVE YOU GUYS THE BEST RESULTS POSSIBLE IN JUST 30 DAYS! ARE YOU GOING TO TAKE IT TO THE NEXT LEVEL?
Let's go!
[/vc_column_text][/vc_column_inner][/vc_row_inner][/vc_column][/vc_row][vc_row][vc_column width="1/6″][/vc_column][vc_column width="2/3″]
[/vc_column][vc_column width="1/6″][/vc_column][/vc_row][vc_row][vc_column][vc_empty_space height="52px"][vc_column_text]
Recommended MA30DAY Products Add Ons
[/vc_column_text]
[vc_empty_space height="52px"][/vc_column][/vc_row][vc_row][vc_column][vc_row_inner][vc_column_inner width="1/2″][vc_single_image image="77455″ img_size="full" alignment="center" style="vc_box_shadow_3d"][/vc_column_inner][vc_column_inner width="1/2″][vc_single_image image="77456″ img_size="full" alignment="center" style="vc_box_shadow_3d"][/vc_column_inner][/vc_row_inner][vc_row_inner][vc_column_inner width="1/2″][vc_empty_space][vc_single_image image="77454″ img_size="full" alignment="center" style="vc_box_shadow_3d"][/vc_column_inner][vc_column_inner width="1/2″][vc_empty_space][vc_single_image image="77453″ img_size="full" alignment="center" style="vc_box_shadow_3d"][/vc_column_inner][/vc_row_inner][/vc_column][/vc_row]